South Mimms is best known to some as the service station where the A1 meets the M25, but nearby is a small but historic village in which is historic St. Giles's church.
Skillingtons have been involved here for many years, initially in assisting a main contractor with in 2011 the re-location of the important mid-15th century Frowyk brasses, set in a fractured Purbeck marble ledger slab, from the foot of the tower to the Frowyk Chapel to the north of the Chancel.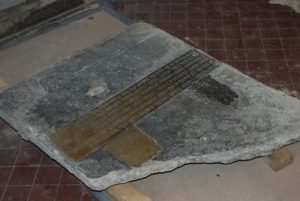 The Frowyk Chapel is known to have been built in about 1525-6, the centre-piece originally being the fine canopied tomb chest monument to Thomas (d.1523), son of the builder Henry Frowyk. Exceptionally fine London work this is one of a group of monuments also including that to Christopher Urswyck (d.1522) in St. John at Hackney – which was also conserved by Skillingtons (our survey in 2004, the works carried out in 2009).
Unfortunately the Frowyk Chapel has been affected by settlement and the north wall – into which the monument is built – falling outwards. We have been monitoring this since cracks first started appearing in the monument in 2016, and in 2019 concluded in consultation with the parish, diocese, architect and structural engineer that there was no option other than to dismantle at least the canopy as a matter of urgency – before it collapsed. We did this in late 2019, returning to dismantle the tomb chest in early 2020 in advance of works by others to the floor.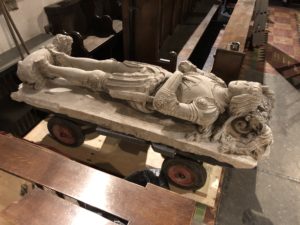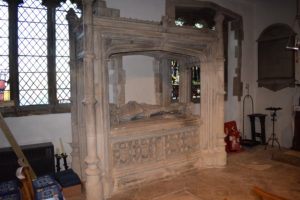 A number of interesting finds and observations were made during this dismantling. We knew from the archives that the canopy had been rebuilt in 1958, this being confirmed to have been limited as thus, and the tomb chest convincing as the original 1520s construction.
As well as re-used pieces of clunch mouldings in the tomb chest core, some with paint on, we found an encaustic tile dating to the late 15th or early 16th century, various masons' marks, and that some of the tomb chest masonry was made from re-used carved stone that had been turned round – a useful insight into the workshop practice. Also, and perhaps unexpectedly as the effigy was so devoid of it elsewhere, we found traces of colour – suggesting that the monument was originally polychromed a least to some extent. The monument is currently in store waiting for other works to be done prior to rebuilding.